Page 2 - QH Battery Application Guide
P. 2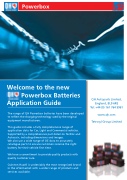 Powerbox
QH Autoparts Limited, England, BL9 6RE Tel: +44 (0) 161 764 5981
www.qh.com Tetrosyl Group Limited
Welcome to the new Powerbox Batteries
Application Guide
The range of QH Powerbox batteries have been developed to re ect the changing technology used by the original equipment manufacturers.
This guide includes a fully comprehensive range of application data for Car, Light and Commercial vehicles. Supported by a comprehensive part detail on TecDoc and Autocat+, including dimensions and images.
We also use a wide range of OE data to accurately catalogue parts to ensure customers receive the right battery for their vehicle  rst time.
We have a commitment to provide quality products with quality customer care.
Quinton Hazell is undeniably the most recognised brand in the aftermarket with a wider range of products and services available.