Page 10 - QH Battery Application Guide
P. 10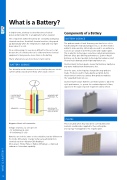 What is a Battery?
In simple terms, a battery is a box that stores electrical power and provides this to an application when required.
The components within the battery are constantly undergoing chemical reactions. As with all chemical reactions, they speed up dramatically when the temperature is high and slow right down when it is cold.
On a cold morning it is even more dif cult for the car to start because the oil is thicker, the fuel is colder and more electrical equipment is being used = more strain on the battery.
That is why batteries are more likely to fail in winter.
BATTERY SCIENCE
Two dissimilar metals immersed in an acid will produce an electric current called a load. Current  ows when loads connect:-
Components of a Battery
BATTERY SCIENCE
The grids are made of lead. However, pure lead is too soft to handle during the manufacturing process, so another metal is added to make an alloy. Historically, we used to use antimony, now we use calcium in both the positive and negative plate. This is why this technology is sometimes called calcium/calcium. Different alloys give differing performances. Quinton Hazell batteries use the best possible technology that enhances shelf life and resists damage under high temperature use.
Quinton Hazell technology also means that batteries hardly lose any water making them maintenance free.
Over the years, technology has changed the way grids are made. Producers used to make gravity cast grids, before they invented continuous casting. Now grids are made by the 'expanded metal' process.
Quinton Hazell Leisure Batteries use thicker plates to aid in the cyclic performance, i.e. power for a sustained period of time, opposed to the surge of power required to start a vehicle.
POSITIVE PLATE LEAD DI-OXIDE - PbO2
SEPARATOR
NEGATIVE PLATE PURE LEAD - Pb
ELECTROLYTE SULPHURIC ACID H2SO4 (1.28 SG)
Diagram of basic cell construction
Voltage created = 2.2 volts per cell - 12 Volt Battery (6 cells)
- 6 Volt Battery (3 cells)
PLATES
These are grids when they have been covered with active material. Lead dioxide is applied to the positive plate, and 'spongy' lead applied to the negative plate.
Batteries can look the same on the outside but can be different on the inside. More plates = Larger surface area allowing more chemical reaction = Greater CCA Reading /
More power. Thicker Plates = Higher Ah Rating, i.e. improved endurance / slow drain capability.
10
WHAT IS A BATTERY?