Page 11 - QH Battery Application Guide
P. 11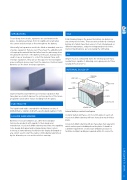 SEPARATORS
To avoid any short circuits, separators are used between the plates, insulating each plate from its neighbour, but allowing the current and electrolyte to  ow throughout the battery.
CCA
Cold Cranking Amps is the power the battery can deliver in a very short period of time. There are various methods of rating a battery, all of which have their own set of test criteria based on different temperatures, end point voltage and period of time. Quinton Hazell batteries are tested using the SAE rating.
AH
Ampere hours is a rating that states the electrical power that a new battery is capable of delivering over a given period of time, (usually 20 hours at 27°c).
INTERNAL BUILD UP
Historically, leaf separators used to be  tted as standard, now it is envelope separators that are used. These have the added bene t of keeping the material that has fallen from the plate away from the grid at the bottom of the battery. In the past, manufacturers used to have a 'mud space' to collect this material. Now, with envelope separation, they can use this space for increased plate area, resulting in more power from the same box. Quinton Hazell Batteries use the latest envelope separators.
Quinton Hazell Leisure Batteries use envelope separators that have glass wool which improve the cyclic properties of the leisure programme and further reduce shedding from the plates.
ELECTROLYTE
The liquid found inside a standard  ooded battery consists of: Distilled Water + Sulphuric Acid (with a speci c gravity reading of 1.28).
LEISURE AND MARINE
Batteries for Leisure & Marine use, differ from standard Automotive products with regards to their design and manufacture. A Leisure & Marine battery must have the capability to be deeply discharged and recharged many times (cycles).
In theory, a starter battery should never be deeply discharged as any current used to start the engine is immediately replenished, by the alternator, as soon as the vehicle is running.
Internal battery construction diagram
A starter battery will have a lot more thin plates in each cell. A Leisure & Marine battery will have fewer, but much thicker plates.
A Leisure & Marine battery will also have glass mat separators which reduces paste shedding from the plates. A handle is
a de nite requirement on all Leisure & Marine products to facilitate multiple handling as required within it's service life.
VENT CAPS
COVER
CELL PARTITIONS
CASE
TERMINAL POSTS
CELL CONNECTORS
CELLS
PLATES ELECTROLYTE
SEPARATORS
11
WHAT IS A BATTERY?