The Marvel of T-Cut
A few weeks ago, we were brought to the attention of Adam Gandy (or @hoot_cornwall on Instagram) when he tagged us in a video highlighting how he polishes wooden rings. Residing in Helston, Cornwall, Adam makes wooden rings out of old skateboards, fabricating them to a custom size and design. To his followers' amazement, and ours, he was using T-Cut to finish the ring. We had never seen T-Cut used in this way before.
Looking through his Instagram page, we were immediately impressed by his skill and wanted to know more. We asked him if we could share the video he had posted on our CarPlan Instagram page @carplan_official, and it certainly sparked interest with our followers as well.
He also sent us some photos via the platform and to our surprise, and delight, asked what our ring size is and said he'd send a ring across. A week or so later, a beautiful ring arrived in the mail, and the office were taken aback by the quality and craftsmanship. We had to send something in return, so sent him a supply of T-Cut to allow him to continue his work. We asked if he'd like to feature in a Q&A, which he gladly accepted, and that brings us to today.
Tetrosyl: How long have you been making rings and how did you get started?
Adam: I have been making rings for about a year now, we relocated to Cornwall from Essex and I had given up my work of 21 years in the wall and floor tiling industry so I was just looking for something to do that I could get creative with.
Tetrosyl: Is this your full-time job or just a hobby?
Adam: To be honest it's not really a job as it's something that I enjoy doing but also earn a bit of money from.
Tetrosyl: How long does it take to make each ring?
Adam: The skateboard deck rings usually take around an hour and a half to make, and then the finish that I use can sometimes take a couple of days.  For the Bentwood rings that I make they can take up to a week from start to finish.
Tetrosyl: Why do you use old Skateboards? Where do you get your materials?
Adam: I use old skateboards as I have lots of them lol!  I have been a skateboarder for many years and have never thrown out my old boards, I also get a lot given to me by fellow skateboarders. Skateboard decks are made from 7 plys of Canadian maple and are very strong, and as you can see from the rings a few of the plys are coloured so these are great for making rings.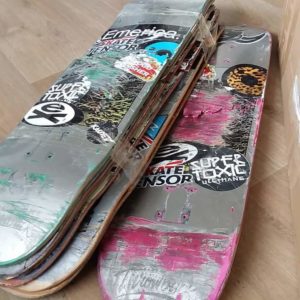 Tetrosyl: What is the process from start to finish?
Adam: With the skateboard rings I start by cutting a piece of the skateboard deck, then use a forstner drill bit on the drill press to cut a hole, the size of which varies dependent on ring size needed. Next, I will mark a circle around this and then roughly cut it out.  Then using a disc sander, I shape the outside so it is more circular and check that the band thickness is even all the way around.  Then it goes onto a mandrel mounted in a drill and it is spun and sanded to a perfect circle.  After this with it still mounted on the drill I shape the edges with sandpaper.  If the inside needs adjusting to size this will be done next by sanding.  Once this has all been done, the size is right and the shape is right then I will put the finish on, the finish that I use is a CA finish which is applied in several coats, then sanded back to an even finish from 400 grit to 12000 grit and then polished up with T-Cut.
Tetrosyl: Have you used other materials to make rings or made anything else from other materials?
Adam: I do make bentwood rings, these are made by bending very thin wood veneers, but as yet I have not used any other type of material other than wood although it would be great to try out some other materials such as resin and carbon fibre.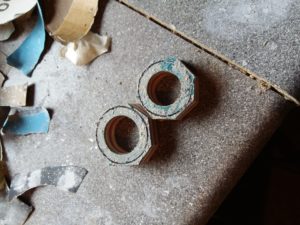 Tetrosyl: Why do you use T-Cut over other cutting compounds?
Adam: I use T-Cut because it works and nothing else has come close.
Tetrosyl: How did you discover you could use T-Cut to better the appearance of the rings?
Adam: Basically, I'm a bit of a perfectionist and even after micromesh 12000 grit there were still really small lines in the finish and I wasn't happy with it.  I have always used T-Cut on my car so thought I would give it a try and it was just like magic, so thank you for making such an amazing product.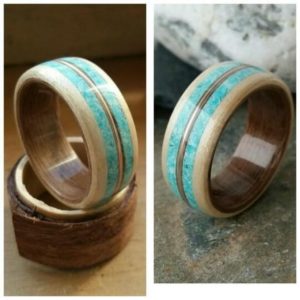 Tetrosyl: How do you use T-Cut to finish the ring – what are your methods?
Adam: I use a soft lint free cloth to apply it to the ring whilst it is spinning on the lathe at a slow speed with no pressure, just letting the T-Cut do the work, then speed it up and buff with another lint free cloth.